Masterchef 3 rupanya membuat gue kembali menyukai TV show memasak ini.
Dengan Christine Ha sebagai pemenangnya membuat gue harus sedih tidak bisa melihat TV Show yang gue sukai lagi..........
Karena keseringan liat aksi masak para home cookers keren, gue juga gak mau kalah menjadi masterchef di dunia khayalan gue sendiri. Jadi gue putuskan untuk memilih beberapa resep andalan gue yang bisa membuat gue jadi masterchef!!
Bagi yang masih ingin hidup, lebih baik tidak mengikuti resep gue.
Berikut adalah daftar makanan yang akan gue masak jika gue adalah Masterchef. ( diambil dari beberapa sumber , bukan milik pribadi. )
Roasted Chicken Spaghetti with Black Olive and Tomatoes
How to Cook :
Ambil spaghetti secukupnya , rebus spaghetti.
Potong ayam fillet berbentuk kubus lalu panggang
Potong black olives , tomat , dan daun seledri.
Hidangkan.
Roasted Chicken Steak with Mashed Potatoes and Cob of Corn
along with Salad and Creamy Sauce
How to cook :
Potong ayam fillet sebesar gambar.
Beri merica, garam, lada, dan bumbu-bumbu dapur lainnya
yang perlu sebagai "Seasoning" ayam fillet.
Panggang ayam di suhu secukupnya.
Ambil kentang dan rebus hingga matang ( rebus jagung jg sekalian )
Setelah matang, tumbuk kentang sampai halussssss
Jangan lupa beri mentega khusus untuk mashed potato
beri seledri.
Dan jangan lupa ambil selada, cuci bersih...
Untuk bumbunya bisa beli dalam kemasan =D
Siap dihidangkan.
Garlic Tenderloin Steak served with Baby Potatoes and String Beans.
How to Cook :
Goreng sebentar daging tenderloin secukupnya sampai luarnya
berwarna cokelat. Jangan lupa kasih "seasoning" berlupa
garlic, garam, lada , dan lain-lain.
Lalu masukkan ke dalam oven , dan masak ke suhu yang diinginkan
( liat chef's tips dibawah )
Untuk kentang, tinggal rebus aja sampai matang.
Setelah itu potong kecil-kecil seperti digambar.
Untuk kacang panjangnya , bisa ditumis sampai matang.
Sajikan.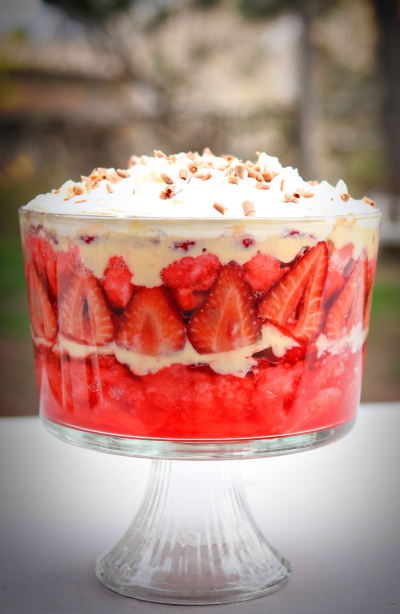 English Trifle Custard
How To Cook.
Ask Google.
Amazing Mini Fruit Tarts
How to Cook :
Buat adonan untuk kuenya. Berupa tepung, gula , dll.
Lalu panggang adonan di oven selama kurang lebih 10 menit.
Setelah itu kasih "fla" vanilla.
Lalu potong buah-buahan yang akan menjadi "toppings" nya.
Setelah itu susun seindah mungkin.
Terakhir jangan lupa dikasih pemanis gitu deh.
Sajikan.
And here's some tips to cook various steaks from Chef Natasha ;)
Selamat mencoba di dunia khayalan aja yah! Jangan di dunia nyata ;)
Cause I cant cook at all.
Love
Chef Natasha.